---
HotMedia
The Mac Handbook Central
Links, Links, Links
Why the Fifties graphics?
Feedback, Please!
---
Welcome to Heidsite, my Macintosh and multimedia-production hangout!
Heidsite contains information, tips, and links for Macs and Mac OS-compatible computers, with a particular emphasis on media production: audio and video, and soon, authoring and Web site development. There are a lot of great Mac-oriented sites (see my list of favorites for some examples), but I haven't found a site that specializes in Mac-based media production -- one of the areas where the Mac is most popular. So I created one.


There's another reason Heidsite focuses on media production: I write Macworld magazine's monthly Media column, which focuses on the areas I just mentioned. I wanted a place where I could stash sample files and additional information relating to each column. Macworld itself has a superb site called Macworld Online, but I wanted a place I could call my own. And I wanted to dive into the Web-development process myself in order to better understand it and write about it. Thus, HotMedia: the online complement to my Media column.
The Mac Handbook Central
Another reason I created this site was to provide updates for my 1200-page Mac book, Macworld New Complete Mac Handbook, 4th edition. If you aren't familiar with the Mac Handbook, you might want to read some of the excerpts I've posted here. You'll find them throughout the General Mac Info, Audio, and Video areas. (Check back often -- the excerpts change frequently.)
Links, Links, Links
When I find something on the Web that I think relates to Heidsite's mission, I add a link. If you've found something-- a review, an article, a site-- that you think I should link to, write and let me know.

One unique thing about the links on Heidsite is that many of them will point to the competition. Check out some of other sites operated by Mac journalists or magazines, and you'll notice that they rarely, if ever, provide links to sites run by competing publications or their writers. Now, I've been writing for Macworld since 1984, and I think it's the best Mac magazine in the industry. But when I'm looking for information or reviews, I don't just restrict my search to the home turf. I'll bet you don't either. Besides, the "let's ignore the competition" philosophy doesn't seem consistent with that of the Web.
Why the Fifties graphics?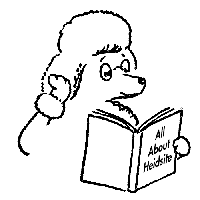 For one thing, I like the look. It's playful and not too serious. But I also think it's appropriate. Fifties design was influenced by our society's growing awareness of and reliance on science and technology: modern appliances, push-button transmissions, the mighty atom, and some new medium called television. I believe the Web has created a similar energy today. Magazines aren't running articles about rooftop heliports or strap-on jets anymore, but they are making some amazing predictions about the future of the Internet and Web: smart and smiling families sitting in front of their Web boxes, learning, exploring, telecommuting, buying. It's oh-so modern that it demands boomerang graphics, tailfins, and poodle skirts.

Feedback, Please!
A good Web site doesn't operate in a vacuum. Your comments and suggestions will make this site a place that people will want to visit. What aspects of the Mac and multimedia would you like to see covered here? What do you like and dislike about this site? What do you like and dislike about the Mac? Share your thoughts and ideas. And thanks for visiting -- I hope you'll find Heidsite a useful site!

-- Jim Heid, Contributing Editor/Media columnist, Macworld
---
Heidsite Home